10 Tips for Knitting Socks
Happy Socktober! Many knitters make socks year round, but the month of October has officially been dubbed Socktober. Socktober has charitable origins. Originally started as a means for uniting the knitting community in a sock knitting drive for the homeless, it's now become a month when knitters focus on making socks for themselves and as gifts for the holidays as well as for charity. You can learn more about Socktober here.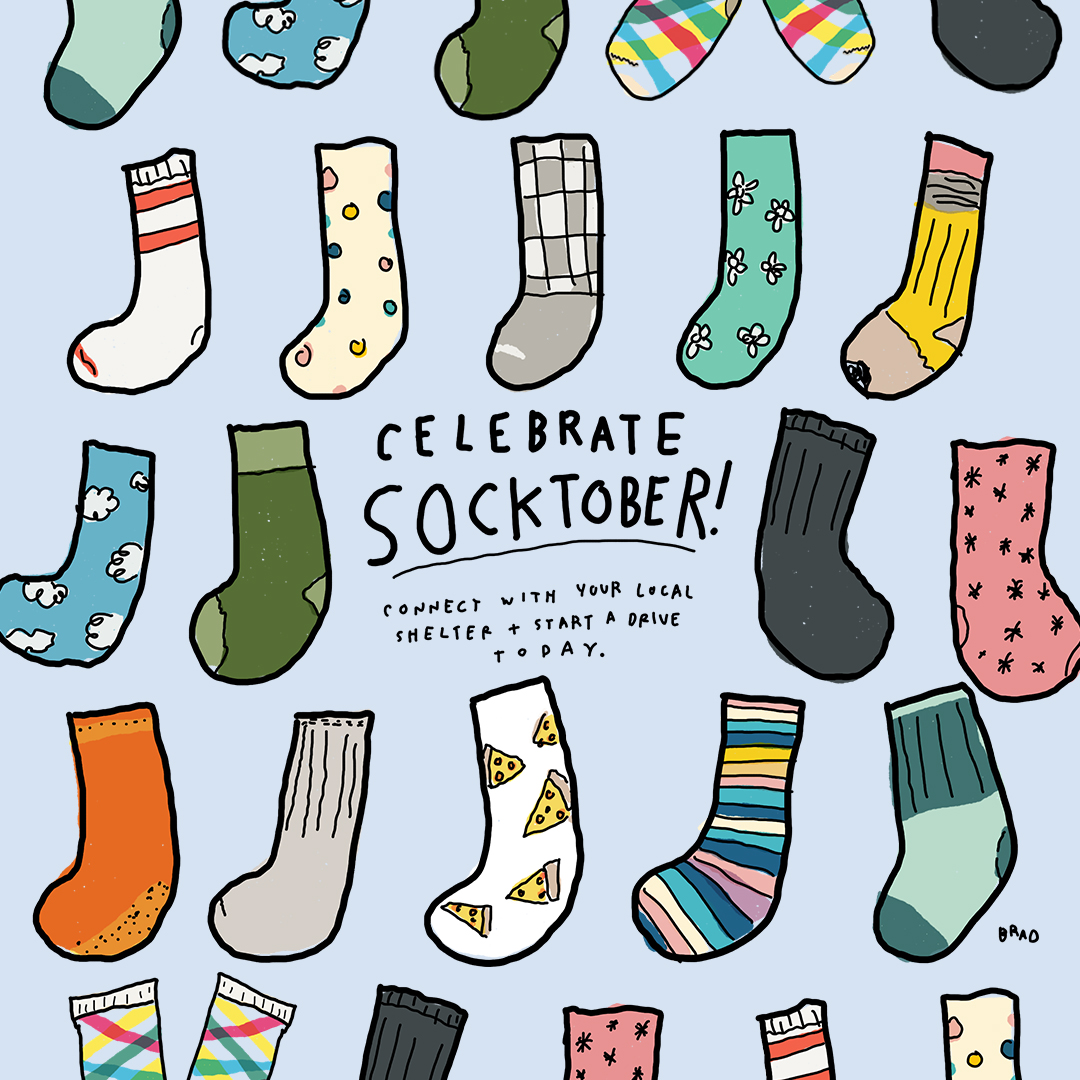 If you're new to knitting socks, this primer should help you get started. If you've been knitting socks for awhile, hopefully you'll find some information that expands your sock knitting knowledge.
1. Familiarize Yourself with Sock Knitting Methods
There are several different methods for knitting socks. You can knit with double pointed needles, short circular sock needles, longer circular needles using the Magic Loop Method, and two-at-a-time using the Magic Loop Method. It's worth trying out each method to find the one you prefer. Knitting on small needles can feel finicky, so you want to pick the method you enjoy most. Otherwise, you might suffer the dreaded Second Sock Syndrome where you finish one sock and never cast on the second one!
Also, pay attention to which material works best for you. Some knitters find metal needles too slippery, so they opt for wood or bamboo.
2. Opt for Longer Socks
It's always a good idea to make socks a little longer. If the sock looks just a bit too long for your foot, you've probably got it just right! The reason why you want to knit a little longer is because you're dealing with a tube of fabric. The tube expands around your foot, pulling the whole sock shorter. This contraction grows over time, so as you wash and wear your socks you'll find it may not fit as well as it did when you first wore them. No one wants to discover ill-fitting socks after a month of wear! Usually, adding a little extra length to the heel or toe is enough to do it. This is also dependent on your unique foot, so…
3. Be Comfortable Experimenting!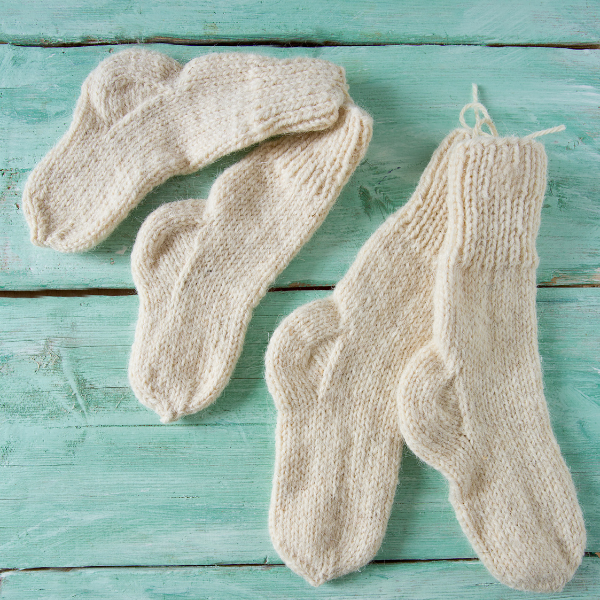 Get comfortable experimenting with your first few socks. You'll learn through trial and error what kind of fit works best for your feet. Maybe you need a longer toe box, maybe your foot needs more room in the heel flap because you have a high arch. You might need to knit one size for the leg and a different size for the foot depending on size differentials between your calves, ankle, and foot. You won't know your perfect fit until you've knit, washed and worn handknit socks a few times. So, for those first few socks…
4. Keep it Simple
Make the most basic sock pattern. Yes, cable, lace, and color work socks are gorgeous and we all want them in our sock drawer. But before you can graduate to more complex sock patterns—all of which will affect the fit—it's important to nail down the basic features of a sock. A very easy ribbed pattern sock is a great place to start. The ribbing provides a little stretch and fit flexibility. Once you see how those socks wear, you can graduate to  lace and color work designs. Shortie socks are a great place to start. And, perfect instant gratification knits!
5. Take Lots of Notes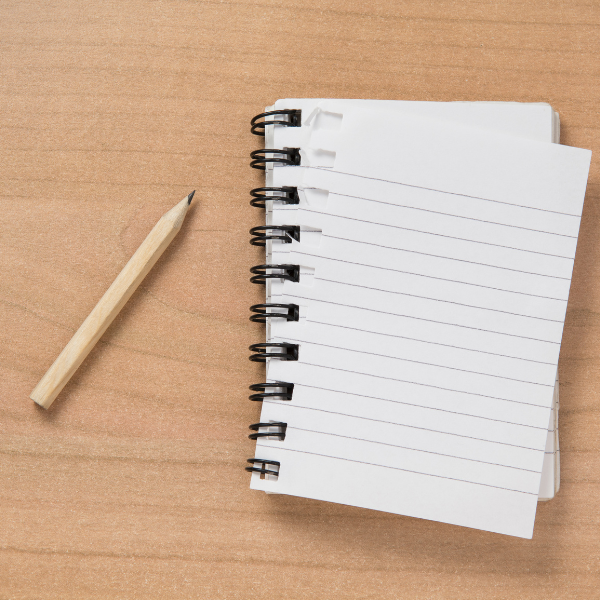 As you're knitting your socks, remember to take note of how many inches you knit for the leg, heel, foot, and toe. Write down your personal measurements, and if your finished socks don't fit as well as you would like, make a note of the differentials. For example, note whether the recommended foot length for your size is too large or too small. What measurements amount to a pair of socks that fit comfortably for your feet?
Also, once sock knitters find a sock yarn they love, they tend to work with it again and again. Just ask our loyal group of Wildfoote sock knitters! Remember to note needle size and gauge the first time you knit with a new sock yarn. That way, you avoid having to swatch again in the future.
6. Mind the Gaps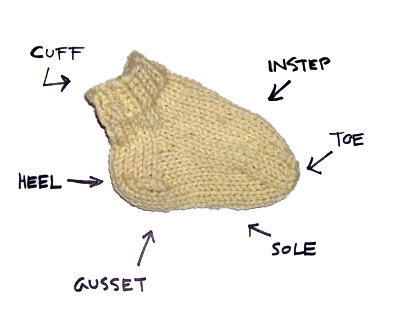 After you work your heel flap, it's time to create the gusset. You'll need to pick up stitches along the edge of the heel flap to continue working the sock in the round. Those picked up stitches are often loose and can form holes. To create a tighter join, pick up through the back loop of the edge stitches. Sometimes, a hole also forms between the heel and the top of the foot. To avoid this, pick up an extra stitch on both sides of the top of the foot. Then, on the next round, knit two together to close the hole.
7. Cold Water Only!
As with almost all hand knits, socks should be washed in cold water. Pay attention to the yarn label as some sock yarns are hand wash only. Whether you can machine wash or not, it's always best to lay hand knit socks to dry. Avoid the dryer! The extreme heat  is hard on your socks and can cause natural fibers to break down over time. You want all the wear and tear to come from using your socks, not caring for them.
8. Keep Gauge Swatches
As we said earlier, many sock knitters return to the same sock yarns time and again. Keep your in-the-round gauge swatches for future reference. It may seem like a waste of good sock yarn, but it really isn't! If it really pains you to waste the yarn, you can wear your gauge swatch as a cuff or use it as a to-go coffee cup holder. Embellish it with a pretty button. This will also keep your gauge swatch in use, so you can get a sense of how much it might stretch over time.
9. Keep Your Cast On Loose
Remember to cast stitches onto a needle at least one size larger than the needle you'll use to knit the sock. You can also cast on to two needles to make your cast on loose if necessary. Just remember to size back down when knitting the rest of your sock. In some cases, it's also a good idea to knit on a smaller needle than your gauge needle. Socks tend to stretch over time, so knitting a denser fabric can help. However, this depends largely on whether you're a loose or tight knitter.
10. Learn From The Best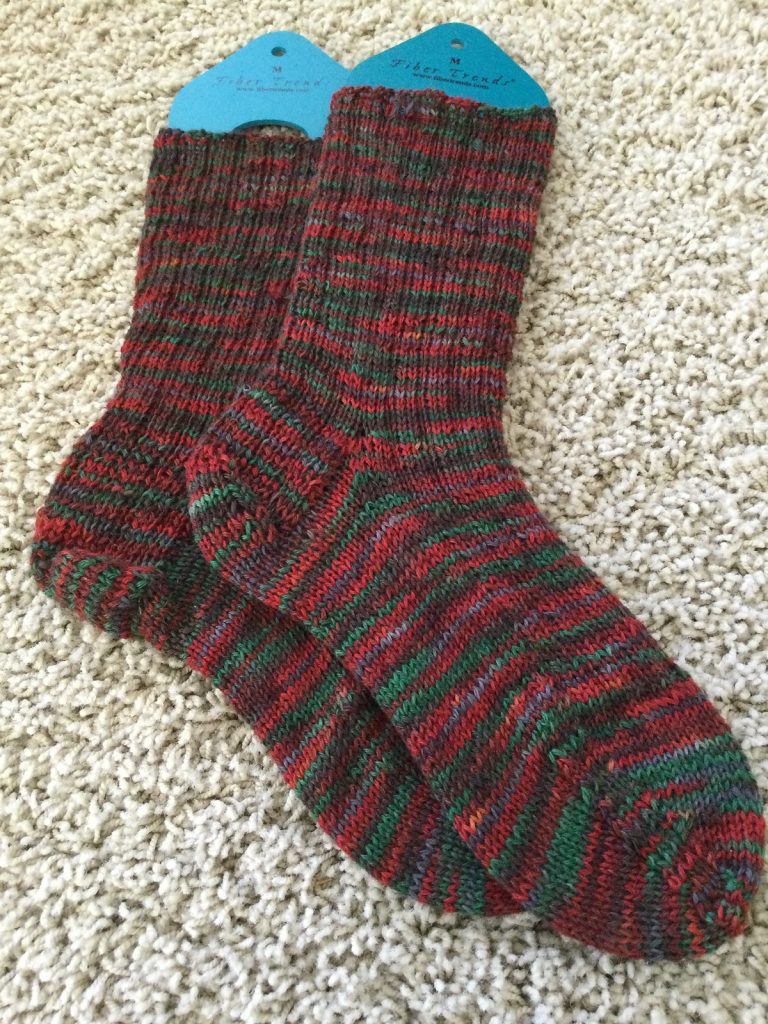 There are so many wonderful sock pattern designs in the knitting community. Many of them write blogs and books and have YouTube channels dedicated to knitting socks. Follow their channels to learn the insider secrets to knitting fantastic socks. Designers like Kate Atherley, Ann Budd, and Summer Lee offer a wealth of information and wonderful beginner sock patterns.
Are you making socks for Socktober? Let us know in the comments below, and join our on Socks! group on Spinning Yarns!
Like this post? Pin it!
---
---
---