Journey to Sievers School of Fiber Arts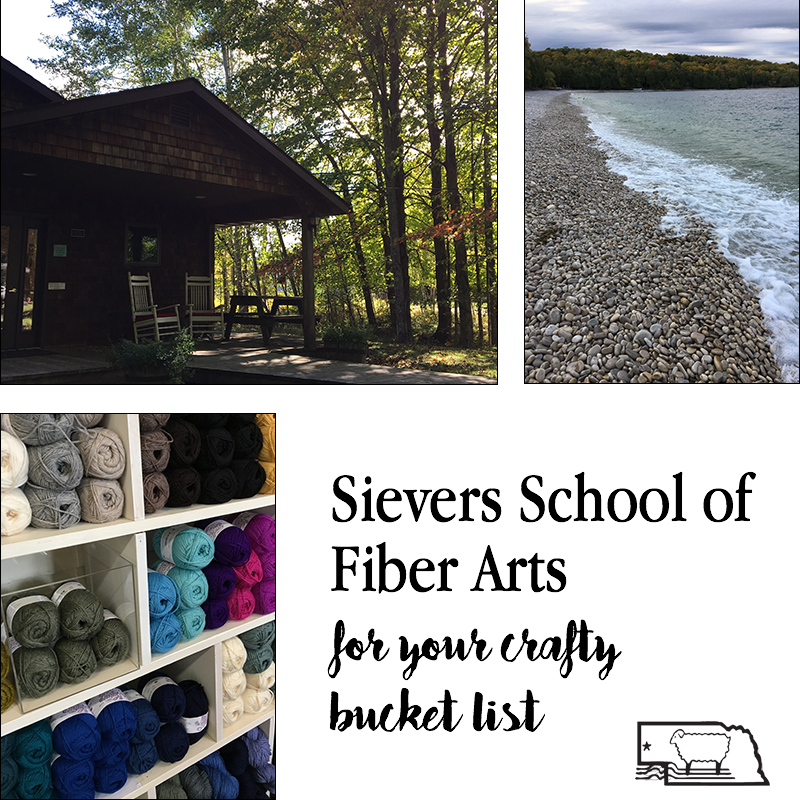 As we ship yarn across the U.S. and around the world, it's fun to imagine where it will land and who will give it a home. One destination, in particular, made me want to jump in the box and travel along with the yarn – to Sievers School on Washington Island, in Northern Wisconsin.  This beautiful island, part of the famous Door County, can only be reached via ferry – making it the perfect haven for teaching and learning about fiber arts.  I had heard wonderful things about Sievers, and it quickly made its way to the top of my bucket list.
This October, my mother and I had the unforgettable opportunity to take a 5-day weaving class and experience Sievers.  Sievers has a lovely shop selling yarns and handmade goods created by Sievers students.  As we walked into the shop, I was greeted by a familiar wall of Lamb's Pride and Nature Spun yarns.  They also have 2 beautiful studios to accommodate a wide variety of classes in everything from wood carving to dyeing and quilting and, of course, knitting and weaving.
Like Brown Sheep Company, Sievers is family-run over several generations. Also like Brown Sheep, it's rather off the beaten path but draws a surprising number of visitors from all over the country. If you're looking for a place to relax and get away, this is it.  Living in rural Nebraska, I'm used to feeling a little overwhelmed by the fast pace of life in other places when I travel—well, not on Washington Island. A place that's more laid-back that Western Nebraska?! Yes, it does exist. Tranquil would be the perfect word to describe this island.
Earlier this summer, Sievers hosted a class in knitting Latvian mittens using our Nature Spun Spun Sport and Fingering.   Nature Spun Sport was used for the colorwork pattern, and Nature Spun Fingering was used for the lining of the mittens.  Many knitters also worked on Latvian mittens during a Creative Knitting retreat week in October. I'm sure their 2018 class catalog (available in February!) will have something that appeals to everyone, and any kind of Brown Sheep yarn that's in your stash.
More than anything, my experience at Sievers was a great reminder of what's at the core of the fiber arts. It's about the relationships we build, memories we make, and the fulfillment of learning. It's about living a life of creating rather than just consuming, and passing on that joy to the people around us.
We at Brown Sheep have a special appreciation for places like Sievers that enable skills to be shared.  This is why we're able to continue making yarn – because people will continue to learn, be inspired, and further their passion for creating. Not only can you become immersed in your favorite handcraft at Sievers, but the owners and staff are brimming with encouragement and enthusiasm, making every student feel appreciated and accomplished.  We hope you'll be inspired to experience Sievers or another wonderful yarn school – places like this are a treasure and we can't emphasize enough their value to the world of fiber arts.
---
---
---